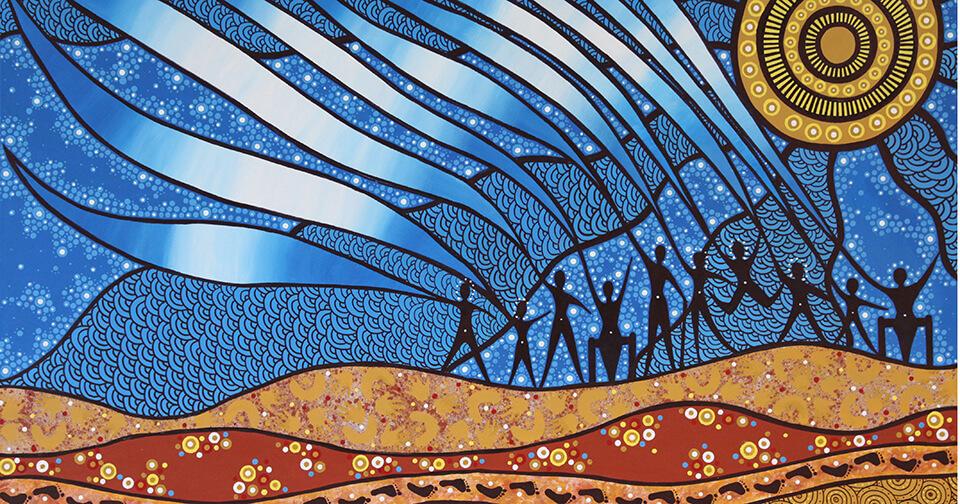 NAIDOC week is Australias national celebration of First Nation achievements and cultures. The National Aboriginal and Islander Day Observance Committee, also known as NAIDOC, is a committee that is responsible for organizing the activities that occur nationwide during NAIDOC week. Each year, a week beginning on the first Sunday in July is the National Aboriginal
and Islanders Day Observance Committee (NAIDOC) Week. NAIDOC Week is held during the first week of July (Sunday-Sunday) that includes the second Friday — historically, celebrated as Aboriginal National Day.

NAIDOC Week has its roots in Indigenous protests and activism, with Indigenous communities boycotting Australia Day, leading to a day of mourning. NAIDOC week (NAY-dok) is celebrated not only within Indigenous Australian communities, but in increasing numbers in Government agencies, schools, local councils and workplaces. NAIDOC week is an enormously significant
mark on the Australian calendar, and a particularly significant marker for Indigenous communities across Australia. Towns and cities across Australia host events throughout NAIDOC week, and people across Australia are able to celebrate with music, dance, film, and even fashion such as NAIDOC clothing.

NAIDOC is a week of celebrating Indigenous culture and heritage, honouring 65,000 years of history, uniting communities, and teaching and sharing stories to the whole of Australia. The day of reckoning is a national celebration of the international day to eliminate race discrimination. The Australian Aboriginal Progress Association has called upon all Aboriginal people at advanced stages in their civilization and culture to observe a day of Mourning in conjunction with DAY OF REJOICING by White People in commemoration of the 150th anniversary of White Peoples arrival in Australia.

The committee wishes to draw national attention to the solidarity of Aboriginal nations. The Committee has worked with Indigenous groups to showcase their cultures and histories during awards ceremonies galas.

Previous winners of NAIDOC National Week awards come from a range of different communities across Australia, with varied backgrounds, yet they are all a part of the NAIDOC story, and they all shared in their outstanding achievements. The National NAIDOC Awards recognize outstanding contributions made by Indigenous Australians in improving the lives of Indigenous peoples within and outside of their communities, or in the promotion of Indigenous issues within broader communities, or for the superiority shown in the fields chosen.

Today marks the beginning of NAIDOC week, where those of us living in the land that we now call Australia come together to honour the history, culture and achievements of Indigenous and Torres Strait Islander peoples on the land we now call Australia. Along with other commemorations, such as National Sorry Day, National Reconciliation Week, Mabo Day and Indigenous Peoples Childrens Day, this is an important opportunity to recognise Aboriginal and Torres Strait Islander peoples history, culture and achievements as a nation. Along with films and documentaries on the history of Aboriginal and Torres Strait Islander peoples, one could also turn to NITV for its week-long coverage throughout the week.

The second annual NAIDOC festival is held in southern Queensland, and features an extensive lineup of talented Aboriginal and Torres Strait Islander artists, including Australians Got Talent alumnus Chris Tamwoy, a menu and tours of traditional bush food, live cultural demonstrations and workshops, a tourism information tent, market stalls, food trucks, and tons of free
family-friendly activities for kids, including arts & crafts, games, and painting boomerangs, just to name a few. For many Indigenous people, NAIDOC week balls are a highlight of the year, with hundreds to thousands travelling hundreds of kilometres to reconnect with family, to network, and to meet others from their communities. What typically happens is lots of celebrations and outdoor community activities, celebrating not just Aboriginal Australians and Torres Strait Islanders history and progress, but paying tribute to elders from their clans and families, and understanding the continuing presence of Indigenous Australia in the societies in which we have all worked and lived in today.

NAIDOC week is where these discussions can happen, and where many people should get involved with what Australia stands for — not just New Australia, and having Australia Day, which is hugely contentious today, but to understand why those things need to be discussed anyway. Events like Sorry Day, Mabo Day, and NAIDOC week are helping shine a light on some of the issues/successes that Indigenous Australia has experienced, and encouraging all Australians to get involved in having conversations about it.

This years host city was Alice Springs, where the NAIDOC ball and the NAIDOC awards were meant to stand as platforms for celebrating success, building for a better future, and reminding all of Australias 65,000-year-old history. The National NAIDOC Poster Competition has become a signature feature of National NAIDOC Week, and has a rich and meaningful history. In 1991, the Committee, wanting to acknowledge Torres Strait Islander peoples and cultures, left the week and was renamed the NAIDOC, the National Aboriginal and Islander Day Observance Committee.

The following year, 1956, the second Sunday of July became Aboriginal Remembrance Day, and provided a pivotal date for the NAIDOC week (then called Naidoc), which remains to this day. After 1940-1955, Aboriginal Peoples Day was moved to the first Sunday of July, with Aboriginal Peoples Day becoming a day to celebrate their rich culture. In 1955, Aboriginals Day was
moved to the first Sunday in July, after it was decided that Aboriginals Day should be a celebration of Aboriginal culture including Aboriginal cuisine, Aboriginal clothing or Aboriginal movies, not a protest — or, some believed, a removal of protests from Australia Day. The theme for NAIDOC week this year is Always Be Always Will Be, which Sophie Coppenhall thought was a very good line, which illustrated a continuity in the story, that is at the core of their culture itself.